The comment is surprising as India, which is a very important market for Huawei, has given a green light to the company to participate in the 5G test phase.
Antariksh Raut, Senior Analyst of Telecoms Market Data & Intelligence at GlobalData, said: "India being world's second-largest market after China, holds strong potential for Machine to Machine/Internet of Things (M2M/IoT) growth. Factors such as growing economy, smartphone penetration, high data consumption, technology adoption among others make India a favourable investment destination for Huawei."
According to GlobalData Mobile Broadband Forecasts, M2M/IoT subscriptions in India are expected to reach from 9.75 million in 2018 84.4 million by the end of 2024, growing at a compound annual growth rate (CAGR) of 42 percent. 5G is expected to exponentially improve data speed and power the IoT.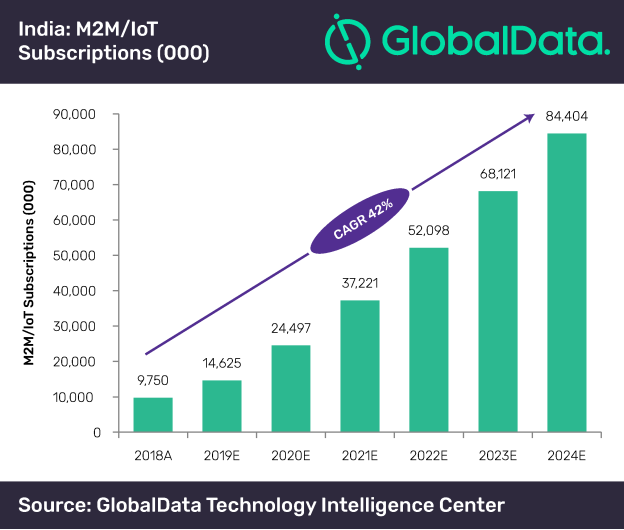 Raut continued: "The US is applying pressure on India to reject network equipment from Huawei, which is China's largest tech manufacturer. However, considering India's trade dependency on Chinese products, India is in a very tricky situation. Though India has allowed Huawei to participate in the India Mobile Congress in October 2019 to show 5G use cases and undertake 5G trails, India is yet to announce its decision over the company's participation in the upcoming full-fledged 5G development."
However, Huawei is taking a very transparent, direct and cooperative approach to engage with the Indian government and has given full commitment to follow all rules and regulations with full compliance. In addition, Huawei is committed to making long-term investments in India, including local manufacturing.
Raut concluded: "Considering India's political and trade relations with the US and China, India may allow Huawei products for 5G deployments by strictly restricting its involvement for the development of core 5G networks especially at sensitive places (country's borders). It will be very interesting to see how the Indian government along with network operators and Huawei arrive at the decision, which could turn win-win for everyone involved, without compromising national security."